The History of Maryport Rescue
Maryport Lifeboat opened the doors to the RNLI station in 1865 built on the southern side of the harbour, the site of our brand new station today. Over the next 85 years five life boats saw active service in the port. 1865 saw the launch of Maryport's first lifeboat the Henry Nixson, A "pulling-sailing" boat powered by oars and sails, paid for by Henry Nixson of Manchester and served for 21 years until 1886. 1886 saw the launch of first of the two civil service no5 lifeboats to operate from the Maryport RNLI station a crowd of around 7000 attended the launch of the £296 vessel, serving for 19 years before being replaced in 1905 at a cost of £1011, the second civil service no5 served for 26years. Both boats were paid for by the civil service lifeboat fund.Maryports first motorised lifeboat the Priscilla Macbean was launched in 1931. Paid for by Mr. E Macbean and named in memory of his wife, she served for three years.
1934 saw the launch of Maryports last RNLI lifeboat the Joseph Braithwaite on September 27th, The boat was paid for out of the legacy of Joseph Braithwite who had been born in Wigton. She served until 1949 when the station sadly closed its doors. Almost 100 call outs were attended and 150 lives saved. After a distinguished service, with one silver and two bronze medals the station was closed in 1949 due to a build up of silt in the harbour preventing the launch of the lifeboat, no sea based rescue service existed out of Maryport for the following 30 years. The Present independent lifeboat service was founded in 1978 by six local men in response
to an accident at sea which sadly cost the lives of three members of the towns community from a fishing boat The Ospray.    Since then the station has had five rib (rigid inflatable boat) lifeboats, The current boat E-ON Sprit of Maryport has been on station for six years. The current boat has a crew of over twenty volunteers.
Civil Service no5 1886
Henry Nixson 1865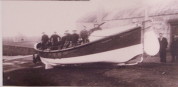 Priscilla Macbean 1931