E-ON Spirit of Maryport – MST Rescue 900.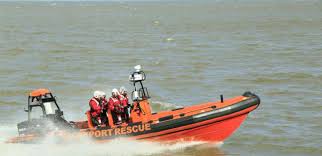 E-ON Spirit of Maryport is the services Lifeboat. Built by Liverpool based Marine Specialist Technology (MST) in 2008, the MST Rescue 900 is one of the Uk's fastest Lifeboats currently afloat having a top speed of 45kts.
The 9meter vessel was designed along side some of our current team members to meet specifications as outlined in the Rescue Boat Code. She is fitted with twin 175hp Mercury engines which designed with the PIRS system. (post emersion restart system), makes them one of the safest engines to use in a rescue environment. Although the lifeboat sports such large engines, they are very economical and suitable for the craft they are fit too, having an endurance of 200 miles, thus giving the crew more time on the water in a Search and Rescue capability.
The Lifeboat carries an impressive electronics suite, which is used extensively on every service call to help the crew arrive at the casualty in the most timely yet safe manor.
The vessel is designed to seat 4 crew, but can accommodate 22 'survivors' as outlined in the design specification. Each service call is different, which mitigates the amount of crew the job requires. We generally launch with no less than 3 crew, and a maximum of 6.
Along with the complex electronics package, the lifeboat carries an extensive medical supply, from Oxygen to the most minor bandage, with everything in between.
Maryport ERB – Zodac 4.3m
Maryport ERB (Maryport Emergency Response Boat) is the teams flood boat, procured from Zodiac, this 4.3m fully inflatable craft can get almost anywhere.
The ERB is kept on its designed road trailer at the station and is ready to be deployed anywhere it is required.
The boat is conformant with the Defra code of concept, and is powered by a 40hp Mercury engine. As the boats general use is in flood and shallow water conditions, the engine is fit with a prop guard to help prevent the loss of propulsion when in use, and generally helps prevent damage to the propeller.
The flood boat or ERB was widely used in Cockermouth and Carlisle during the devastating lashing from Storm Desmond. This piece of kit proved invaluable throughout the rescue and then recovery stages of the flooding which brought cumbria to its knees.
(Photo copyright of Getty images – Jeff J Mitchell. – which shows the boat at capacity as she is used to recover flood victims from the street lines of Carlisle during Storm Desmond)